Prof. Upinder S. Bhalla - Research
1. Sensory representations (Kambadur Ananthamurthy, Ashesh Dhawale, Priyanka Gupta, Aditya Gilra, K. Parthasarathy, Urvashi Raheja)
2. Network activity and learning (Mehrab Modi, K. Ananthamurthy, Ashesh Dhawale, Jens-Oliver Muthmann)
3. Learning and connectivity (Aanchal Bhatia, Niraj Dudani, Subhasis Ray)
4. Learning and cellular change (Pragati Jain, Sahil Moza, Aanchal Bhatia)
5. Multiscale modelling and tools (G.V. Harsha Rani, Subhasis Ray, Niraj Jain,Aditya Gilra, Ekaterina Brocke)
1.Sensory representations (Kambadur Ananthamurthy, Ashesh Dhawale, Priyanka Gupta, Aditya Gilra, K. Parthasarathy, Urvashi Raheja)
We study how brain activity encodes stimuli, specially in the olfactory system and in the hippocampus. There are three key dimensions of an odorant stimulus: intensity, identity and location. Using electrical recordings, we have measured rat olfactory bulb responses to odorant stimuli under a wide range of concentrations and in mixtures. We have identified an encoding scheme that accurately describes the firing patterns of 80% of recorded neurons to any combination and concentration of two odorants (Khan, Thattai and Bhalla, Neuron, 2008 ). This may account for intensity and identity encoding. Odor timing is critical in localizing odorants, and we have characterized highly precise timing responses in the olfactory bulb that suggest a simple stimulus-convolution model for time as well as identity coding (Gupta). Cross-neuron coding in olfaction turns out to utilize both rate as well as phase information (Dhawale et al, Nature Neuroscience 2010). We have developed a detailed compartmental model of the olfactory bulb that accounts for these coding properties, and makes specific predictions about circuit connections that give rise to them (Girla).
At a more systems level, we have been analyzing odor localization for several years. We have found that rats have a highly lateralized and symmetric olfactory system that contributes to stereo localization of odorants (Parthasarathy and Bhalla, J. Neurosci, 2013; Rajan, Clement and Bhalla, Science, 2006 ). This feeds directly into the ability of animals to track odors. We have examined this ability on surface-borne odorants (Khan, Sarangi and Bhalla, Nat. Commn. 2012) and are working on air- borne odorants (Raheja) to understand stereo and rapid odor processing in natural odor-location strategies. Much deeper in the brain, many sensory inputs converge onto the hippocampus. We do 2-photon calcium imaging from the hippocampus to test how these inputs are represented in different behavioural contexts (Ananthamurthy, Dhawale)
2. Network activity and learning (Mehrab Modi, K. Ananthamurthy, Ashesh Dhawale)
Sensory representations are relatively stable in primary sensory regions, but how do they change during learning in the hippocampus? Using 2-photon based sensory mapping methods in awake behaving animals, we have tracked the evolution of activity in the hippocampus during learning. We find that there is a sequential cascade of activity over many hippocampal neurons, that span the interval following a brief trigger stimulus. This cascaded activity builds up over the course of learning and we suggest that it constitutes a sustained representation of the trigger. (Modi, Dhawale,Ananthamurthy).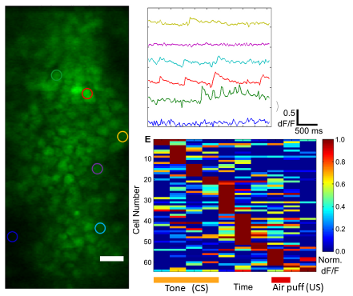 3. Learning and connectivity (Aanchal Bhatia, Niraj Dudani, Subhasis Ray)
Changes in connections are likely to be key features of circuit changes in memory. To measure connections, one needs to measure how strongly an input cell is coupled to its output neurons. Using simulations, we have proposed a way to do this on a large scale in the hippocampus, using optical recording and stimulation (Bhalla PloS Comput. Biol 2008). We are developing optogenetic and physiological methods to achieve this in the hippocampal brain slice (Bhatia). Using models and experiments, we are taking this further to extract the relative dendritic location of these synapses using physiological manipulations (Dudani, Bhatia). Can we extend these methods to the cortex? We have adapted a published large- scale model and used simulations to test this for the thalamocortical projections (Ray).
4. Learning and cellular change (Pragati Jain, Sahil Moza, Aanchal Bhatia)
At a finer level still, there are a huge number of proteins and genes that are known to influence memory. These interactions form networks capable of rich and versatile computations, and are present at every synapse. Over many years we have been systematically building up network models for key aspects of synaptic function: signal recognition, switches, structural change, protein synthesis, transport, and so on (Jain and Bhalla 2009, Bhalla 2011a). Our current focus is to integrate the chemical and electrical signaling, which we are doing both using models (Moza, Bhalla 2011b) and experiments (Parameshwaran 2012). We are also interested in questions of robustness of such systems to thermal noise - which is one of the limiting factors in the ability of synapses to reliably process and store information (Ramarkishna and Bhala 2008, Moza).
5. Multiscale modelling and tools (G.V. Harsha Rani, Subhasis Ray, Niraj Dudani, Aditya Gilra, Ekaterina Brocke)
The brain is too complex to understand unaided. We have developed an extensive set of tools and on-line resources to model the brain. MOOSE , the Multiscale Object-Oriented Simulation Environment is a simulator that can run model at many levels of detail. MOOSE is designed to easily plug in optimized numerical engines to perform very fast computations, while retaining transparent access to all data structures in the model. A particular focus is to easily build neuronal and network models that combine electrical and chemical signaling. This combines interfaces to standard model definition formats (Gilra, Dudani, HarshaRani), with specialized parsers that interpret cellular geometry and place appropriate reactions throughout the spatial extent (Bhalla), and the ability to synchronize different numerical methods running in different parts of the cell and network (Dudani, Ray, Brocke, Bhalla). Parallelization and the use of GPU hardware are important optimizations under way (Ray, others). We continue to support two databases of signaling pathways, DOQCS and DOCSS (Harsha Rani).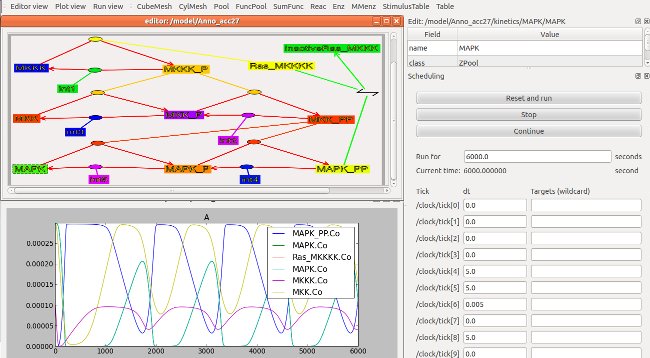 Collaborators:
Ravi Iyengar, Mount Sinai School of Medicine, New York, USA,
Dinu Florin Albeanu, Cold Spring Harbor Laboratory,
Venki Murthy, Harvard,
Naren Ramakrishnan, Virginia Tech
Raphael Camargo, Brazil
Matthias Hennig,University of Edinburgh
Jeanette Hellgren-Kotaleski and
Mikael Djurfeldt: KTH Stockholm