What are we doing here? #2 - Binary and Beyond
Archives at the National Centre for Biological Sciences
What are we doing here?
Monthly discussions on campus histories.
Session 2: Binary and Beyond
Thursday, Jun 30 2022. 5:30 PM - 7:00 PM
Archives at NCBS (ELC Basement)
Open to all at inStem, C-CAMP, NCBS, TIGS, and beyond!
'What are we doing here?' is a monthly experiment to spark conversation, to reflect on campus histories, and to see the culture of science: its backstories, intersections with administration, funding, gender, caste, class, politics, culture, privilege, mentoring, and so much more.
Our second session is on experiences of gender in different spaces of science, from labs to facilities to canteens in institutes. Join us to listen and share. And please be respectful of experiences and opinions different to your own.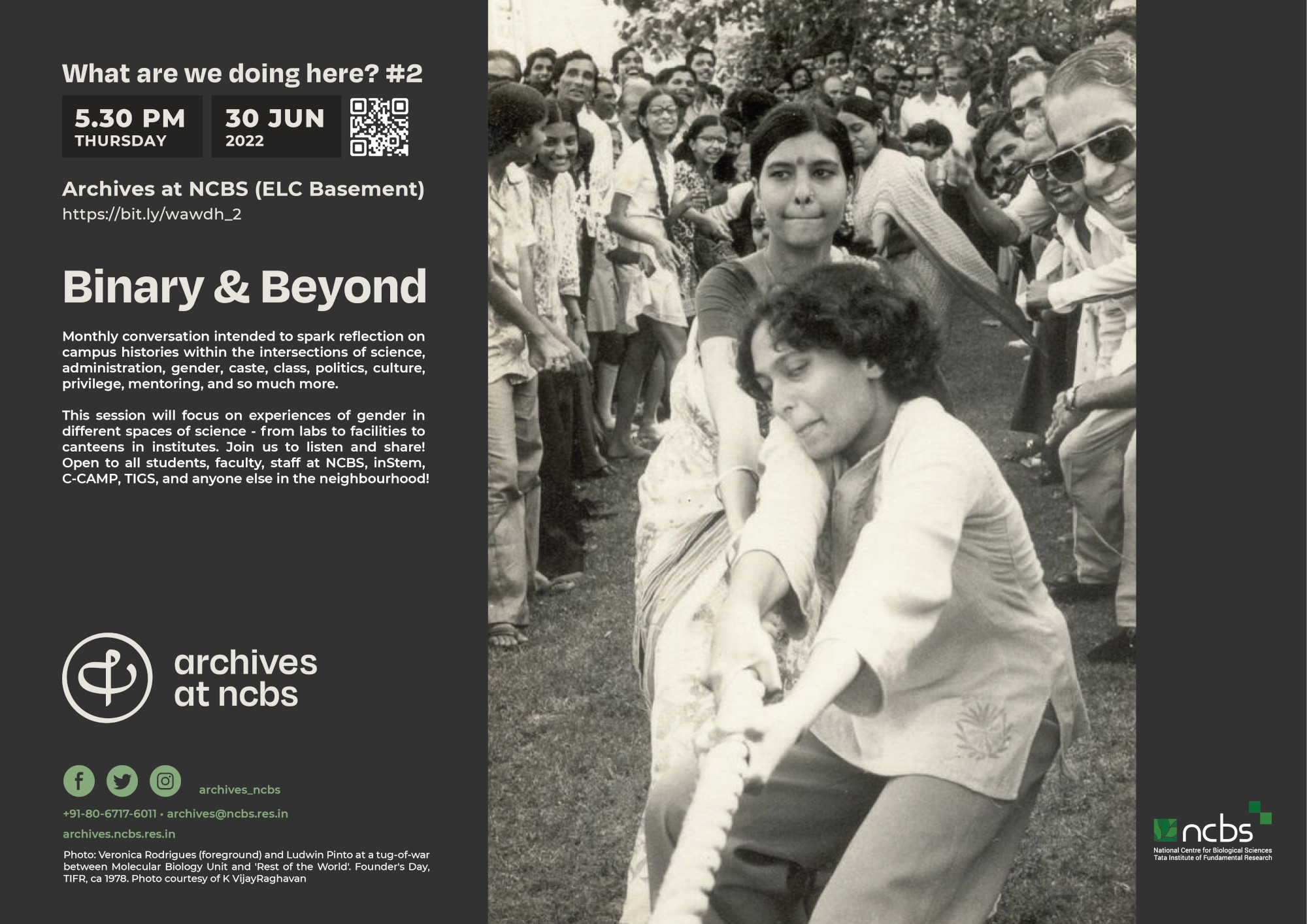 Session 2: Binary and Beyond
Thursday, Jun 30 2022. 5:30 PM - 7:00 PM
Archives at NCBS (ELC Basement)
Binary and Beyond?
We would be grateful if you can dive into your histories and share specific moments. It can be from 40+ years ago, and it can be from yesterday. When and why was the creche established? Have women worked in our canteens? How many women faculty members did NCBS have in its early years? What's been the trend over 30 years? What gender-related questions or observations have made us – students/faculty/staff – laugh, cry, angry? How has gender played a role, if it did, in appointments, experiences in labs and offices, relationships between mentor and mentee? In what ways over the years has gender affected your presence in this campus, or of someone you know? How has gender shaped work beyond this campus – at home, in the field, looking back after leaving campus? Have there been stories or conversations around gender and its perceptions, and around a gender spectrum?
We understand that some of these topics can be sensitive. We also believe that conversation can spark greater empathy and help us understand various aspects of campus history and we ask that you be respectful of different opinions.
Who's hosting this?
The Archives at NCBS. We are a public collecting centre for the history of science in contemporary India (
https://archives.ncbs.res.in
). We also carry institutional memory. Stop by the ELC basement sometime, maybe for this event, and stick around?
Why?
NCBS turns 31 this year (or 25, or 30, or some other number, depending on whom you speak to and what they are counting). And we thought we'll do something different to understand this space. On Oct 22, 1991, the Department of Atomic Energy sent a letter to the Tata Institute for Fundamental Research, conveying the President's sanction for a new biology research centre in Bangalore. Hence, NCBS turning 25 in 2016. But only upon looking back does the letter appear as a bookend to what really was a decade-plus process in realizing a National Centre for Biological Sciences (NCBS). More on that here:
http://stories.archives.ncbs.res.in/exhibit/13ways/
Series history: What are we doing here?
Did you just scroll to the end of this without reading? We got you:
Session 2: Binary and Beyond
Thursday, Jun 30 2022. 5:30 PM - 7:00 PM
Archives at NCBS (ELC Basement)
Open to all.