Stochasticity and Plasticity in Living Systems (SPLS)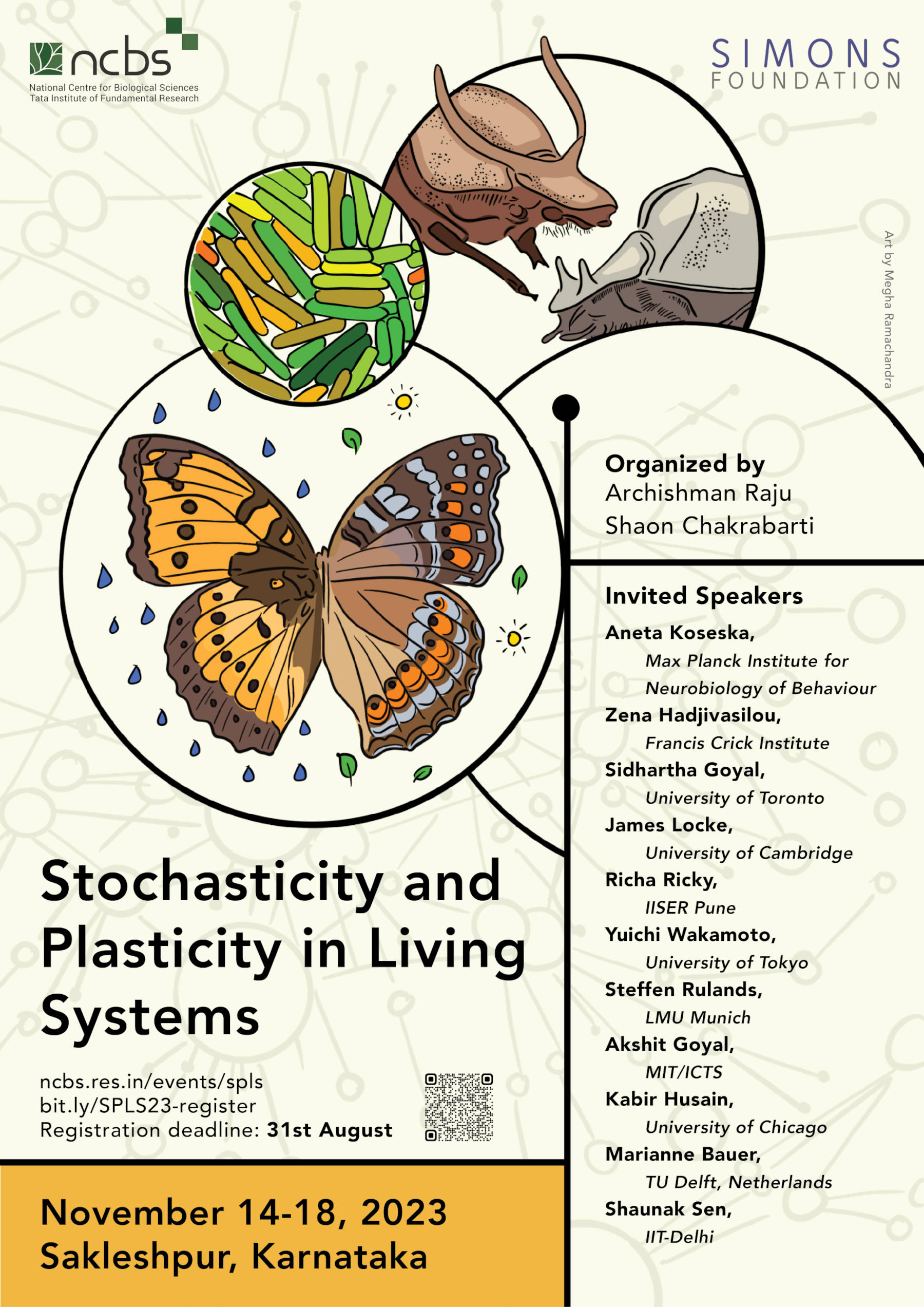 CONFERENCE ABSTRACT:
With rapid technological advances leading to higher-throughput, multiplexed, and single-cell resolved imaging and sequencing techniques, we are getting a deeper appreciation of the heterogeneity and stochasticity in biological systems across scales. The aim of the conference will be to bring together researchers working on diverse aspects of plasticity in living systems. A key idea will be how heterogeneity regulates a cell or an organism's response to environmental change and perturbation.
(Poster designed by Megha Ramachandra)
LOCATION AND DATE:
November 14-18, 2023 | Sakleshpur, Karnataka
REGISTRATION:
Applications are open to final-year undergraduates and above. There is no registration fee fro attending the Sympoisum.
Accommodation on a shared basis (2 per room) and travel reimbursements (at standard government rates) will be provided to those whose applications are selected.
Register by 31st August 2023 using this link: bit.ly/SPLS23-register
Note: APPLICATIONS ARE NOW CLOSED.
SHORTLISTED PARTICIPANTS:
The final list of shortlisted participants can be found at: ncbs.res.in/events/spls-participants
Details of partcipants who have been selected to present a talk / poster / only attend can also be found on the same page.
Please note that all shortlisted participants will be offered accommodation at the meeting venue on a twin-sharing basis.
PARTIAL LIST OF SPEAKERS:
Aneta Koseska, Max Planck Institute for Neurobiology of Behaviour
Zena Hadjivasilou, Francis Crick Institute
Sidhartha Goyal, University of Toronto
James Locke, University of Cambridge
Richa Ricky, IISER Pune
Yuichi Wakamoto, University of Tokyo
Steffen Rulands, LMU Munich
Akshit Goyal, MIT/ICTS
Kabir Husain, University of Chicago
Marianne Bauer, TU Delft, Netherlands
Shaunak Sen, IIT-Delhi