Obaid Siddiqi Lectures - India as a Linguistic Civilisation: A lecture in three parts
Archives at the National Centre for Biological Sciences
https://archives.ncbs.res.in/
Obaid Siddiqi Lectures
Annual lectures delivered by the Obaid Siddiqi Chair in the History and Culture of Science at the Archives at NCBS.
Supported by TNQ Technologies.
India as a Linguistic Civilization
A lecture in three parts
GN Devy
Obaid Siddiqi Chair, Archives at NCBS
July 13, 14, 15 at 4:00 PM
Mount Carmel College
Free and open to the public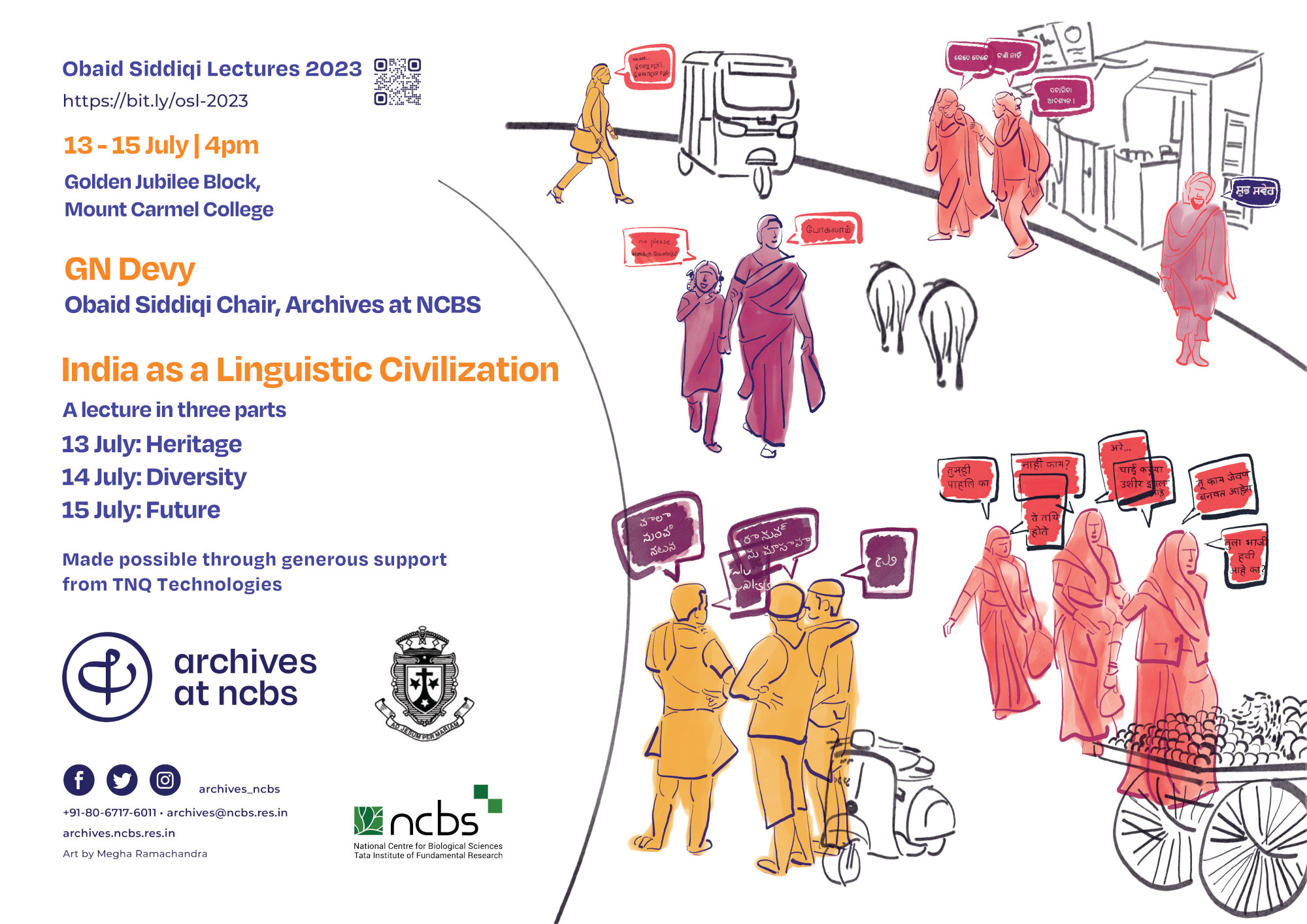 Abstract: It is common knowledge that India has an amazing language diversity. In the last Census (2011), the number of identified 'Mother Tongues' claimed by Indian citizens was 1369. This is about one fifth of the languages globally identified as 'Mother Tongues'.
The three lectures will focus on explaining questions such as: Why does India have such a language diversity? What has been the nature of various historical encounters between different language families? What makes average Indians multilingual? What indeed is the impact of language diversity on the cultural and social formations in India? Why are most of the languages diminishing over the last few decades? What indeed is the future of Indian languages? The lectures will draw upon various disciplines such as Literary and Cultural studies, History, Anthropology, Linguistics and Social sciences. They will also draw upon the People's Linguistic survey of India which was carried out by Ganesh Devy. Despite the existing language diversity, the future of languages -- in India and outside -- is not very promising. The lectures will try to analyze the sources of risk to natural languages in the digital future driven by artificial memory. Devy will bring to bear upon these three lectures his lifelong work with minority communities and vanishing languages.
Bio: Prof Ganesh N Devy is the recipient of the second Obaid Siddiqi Chair in the History and Culture of Science at the Archives at NCBS. A renowned literary scholar, historian, and social and cultural activist, he is perhaps best known for establishing the People's Linguistic Survey of India (PLSI). In addition to the PLSI, Prof Devy founded the Adivasi Academy and Bhasha Research and Publication Centre, an organization dedicated to studying and conserving Indian languages, championing tribal art and literature, and uplifting Adivasi communities through educational and financial assistance. In 2014, he received a Padma Shri for his work on nomadic tribes and dying languages.