" ONE conference: Ocean Networking and Ecosystem development " - About the ONE conference
India has a 7517 km long coastline, comprising 9 coastal states and 1382 islands. About 95% of India's trade is by sea route. Oceans contribute 4.1% of Indian GDP, although this is underreported and marine resources (especially marine living resources) are under-utilized and illegally exploited. "ONE conference-Ocean Networking and Ecosystem development" will provide a unique platform for people from the marine field and those who want to explore it to talk about their research, ideas, plans, and products. The conference will build up a new community network by bringing together marine scientists, scuba divers and naturalists, marine artists, conservationists, policy advisors and industrialists. It will help to understand the knowledge gaps and challenges faced by each sector and develop a roadmap to tackle these challenges collaboratively. It will also help our young audience (marine scholars and students from different parts of India) to understand the overall status of marine life sciences and various career opportunities in this field.
Scheme represents the "ONE Conference" theme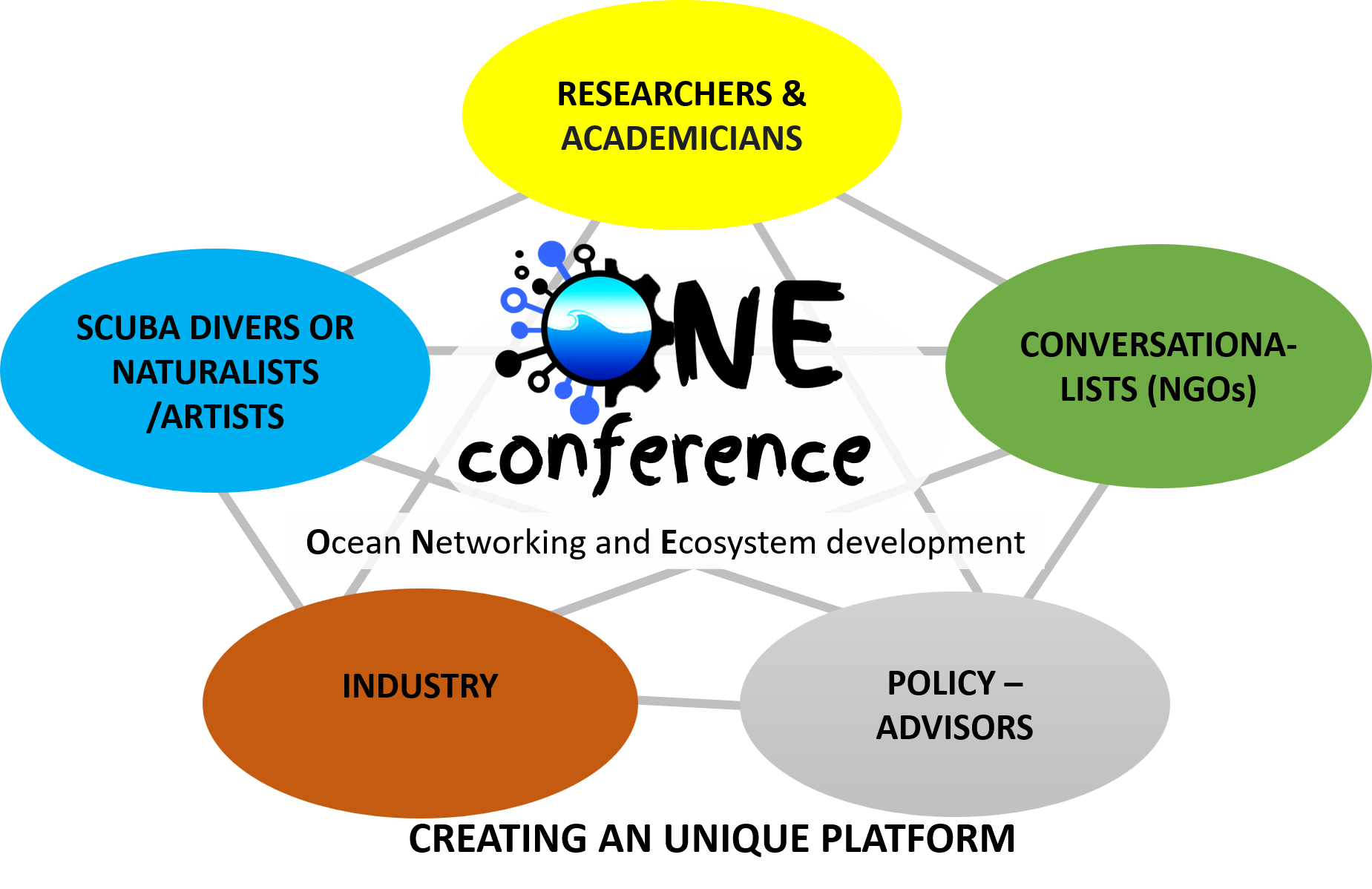 About NCBS
The National Centre for Biological Sciences, NCBS-TIFR, belongs to the Bangalore Life Science Cluster (BLiSC), including three other institutes: the Institute for Stem Cell Science and Regenerative Medicine (inStem), the Centre for Cellular and Molecular Platforms, (CCAMP) and the Tata Institute for Genetics and Society (TIGS). The inStem campus focuses on biomedical translation, in which marine resources play a vital role as model systems and sources for treatments for cancer, neurological disorders, wound healing, and other medical issues on which inStem scientists specialize. While TIGS focuses on finding cutting-edge scientific solutions to challenges in human health and agriculture. CCAMP is an incubation centre for various start-ups such as Sea6energy, the first ocean farming company in India.
Why should you attend this conference?
● Our meeting is unique from previous meetings and outreach activities in that it includes representatives from marine institutes (NIO-CSIR, CSMCRI-CSIR, CMFRI-ICAR, NCCR MoES, Goa University), fundamental research institutes (NCBS itself, IIT Goa), translation biology institutes (such as InStem), Incubation centres (CCAMP, and Atal incubation centre at CCMB), conservation societies (WWF, Dakshin Foundation, TRAFFIC-India), and marine industries (Sea6energy and Reliance life sciences), thereby providing a platform for (1) increasing awareness of, and discussing strategies for marine conservation, (2) the emergence of novel ideas and interdisciplinary projects.
● The invited speakers are from 18 different institutions, covering 9 states of India, belonging to different sectors of marine life sciences (such as research, academia, NGOs, museum and industry).
● The meeting includes representatives from across sectors (researchers, naturalists, academic faculty, conservationists, industrialists, artists, and policy advisors) to understand the challenges and knowledge gaps, needed for the systemic nature of sustainable action.
● Talks at this conference will introduce the opportunities, challenges and a visionary statement for the existing challenges in each of these sectors. We ask that invitees discuss their plans and potential collaborations that they see through this conference.
● This type of meeting has, to our knowledge, never been held in India and therefore offers a unique opportunity to stimulate sustainable thinking, research, and action in the subcontinent.
● This conference will be in a hybrid mode, allowing the in-person gathering of invited speakers and highly motivated individuals from local places as well as online participation of college students, PhDs and young researchers from all over India, thus allowing lots of brainstorming and knowledge transfer.
● The meeting itself will be sustained via an online forum that will be maintained after the event for all the participants. In this forum, the participants can be in touch with the speakers and panellists even after the conference. This can be a self-sustainable forum, facilitating future ideas, collaborations and career counseling support and information on internship and job opportunities in the field of marine life sciences.
● This meeting strives for reducing the environmental footprint in both design and execution through travel and other in-person activities and will be 100% plastic-free by using eco-friendly dining options and event materials,
How to apply:
Applications are invited from faculty members, researchers, company personnel, artists, science citizens, students and postdoctoral candidates interested in the Indian marine field and its sustainable utilization. Please note that the total number of attendees for the conference will be limited to 50 participants (local and in-person attendees) and 300 participants (online). Please note the deadline for Registration: July 25, 2022. Please click the following link for registration (Link).
Registration Fees:
| | | |
| --- | --- | --- |
| | Online (INR.) | In-person (INR.) |
| Students | 500/- | 1500/- |
| Post-Doc | 1000/- | 2500/- |
| Faculty or Scientists | 1500/- | 3500/- |
In-person registration includes fees for attending the meeting, welcome kit, lunch, and high tea.
The certificate will be issued to both online and in-person participants and they will be enrolled in an online forum for future networking, information on career counselling, training, jobs and various opportunities in the field of marine science. E-mails notifying the applicants of their selection will be sent by July 30, 2022.
Many Thanks to our sponsors
Contact: For specific queries, please contact oneocean.india@gmail.com
National Centre for Biological Sciences,
Tata Institute of Fundamental Research,
GKVK, Bellary Road, Bangalore 560065, India.