The 4thBangalore Microscopy Course
September 23-30, 2012

Application Deadline: May 30, 2012
Venue: National Centre for Biological Sciences, TIFR, Bangalore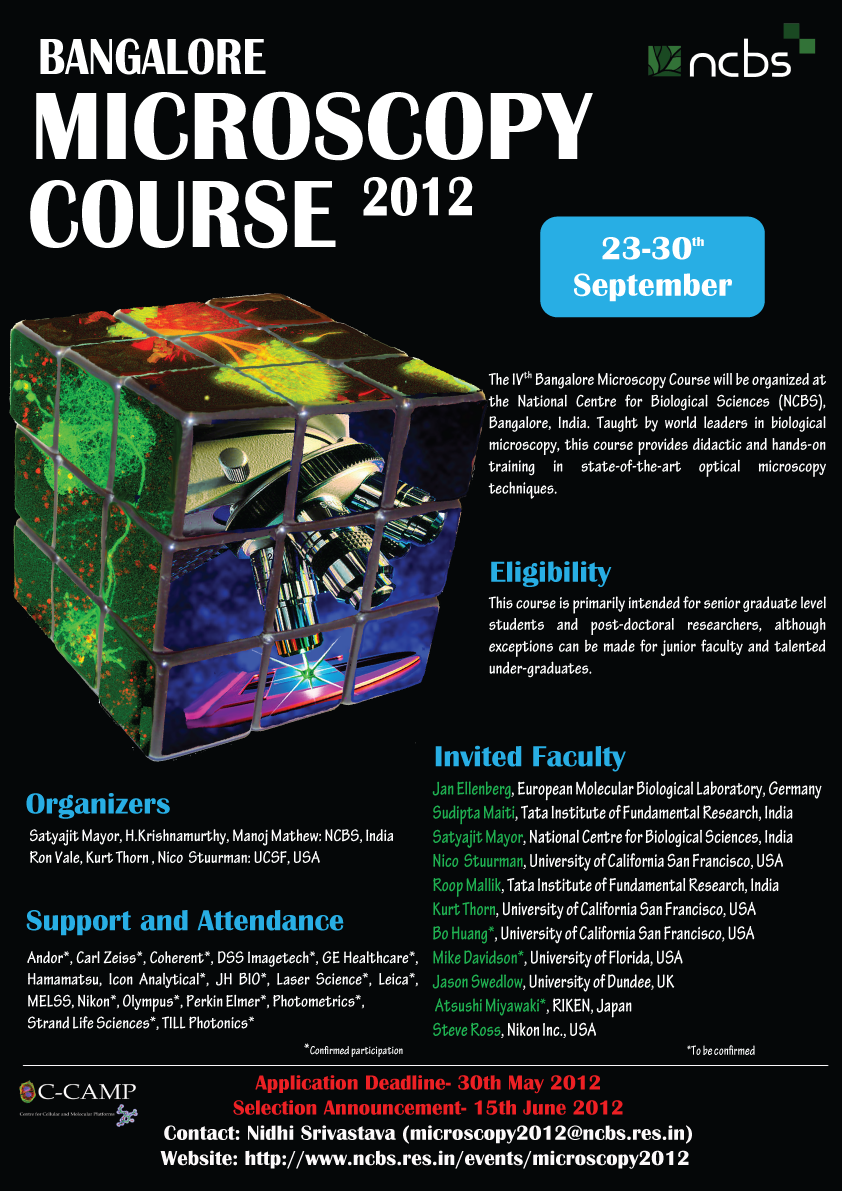 | Application Procedure | Course Schedule 2012 |Selected Participants 2012 | Microscopy 2011 | Teaching Assistants

The IVth Bangalore Microscopy Course will be organized at the National Center for Biological Sciences, NCBS, Bangalore, India. Taught by world leaders in biological microscopy, this course provides didactic and hands-on training in state-of-the-art optical microscopy techniques. A range of topics from basic microscopy to super-resolution imaging will be covered. Research seminars detailing applications of light microscopy to address specific biological questions will also be part of the program.
Lectures will be combined with hands-on training in a dedicated teaching laboratory equipped with many state-of-the-art microscopes. The final two days of the course will give the participants an opportunity to do independent work or a mini-project.
Faculty:
Organizers:
Satyajit Mayor, H. Krishnamurthy, Manoj Mathew: NCBS, India
Ron Vale, Nico Stuurman, Kurt Thorn: UCSF, USA
Course Overview:
Attendees will be selected through a competitive selection process. There will be 24 participants, 14 national (Indian) and 10 international. The small number ensures that every participant individually gets sufficient time on various imaging stations during the hands on training sessions.
International applications will be entertained from across the globe. Previous courses have had participants from China, Singapore, Australia, USA, UK, Russia, Japan, South Africa, Germany, Switzerland, France, Sweden and Pakistan.
The course will be intense and will require full-time participation from morning to evening. Lectures will be combined with practical demonstrations and discussions with teachers. The course will cover many aspects of modern biological microscopy including microscope optics, associated hardware, fluorophores and sample preparation techniques.
Participants can bring their own samples, to image using the systems available at the course. Designated 'free time on microscopes' will be available practically every day of the course where the participants can explore a particular imaging system and image their samples.
A set of student independent projects will be provided for the final part of the course. An expert faculty/industry scientist will guide each of these projects. Participants can also design their own projects based on the instruments/techniques available at the course. In such case they will have to bring their own samples and reagents.
All major microscope companies and microscope hardware/software providers are attending and providing additional equipments and support for this course. The participants will have opportunity to interact with technical experts from these companies as well as receive demonstrations of high-end equipments they bring as exhibits. Some of these equipments will also be included as part of the course.
Systems Available:
Confocal Microscopes
Multiphoton Microscope
Fluorescence Lifetime Imaging
TCSPC/FLIM System for LSM 510 NLO- Becker and Hickel
Total Internal Reflection Fluorescent microscope
Cell TIRF Microscope- Olympus (exhibit)
Spinning Disk Microscopes
Super Resolution Imaging Systems
SR GSD Super resolution microscope-Leica (exhibit)
Optical Manipulation Systems
High Content Screening
IN Cell Analyzer 2000-GE Healthcare (exhibit)

Home build HCS System-NCBS
Configurable Systems
Abbe Diffraction kit- Carl Zieiss (exibit)
Software Platforms
Imaris scientific software -Bitplane (exhibit)

I-manage-Strand Life Sciences
Laser Systems
Coherent Inc USA -Sapphire Lasers - 488 nm and 568 nm - Laser Science (exhibit)

Fianium Uk Ltd- Super Continuum Source - Laser Science (exhibit)

Hinds Instruments, USA-MOKE Kit - Laser Science (exhibit)

This list will be updated as and when we hear from the vendors as to what equipments they are bringing as exhibits.
Eligibility:
This course is primarily intended for senior graduate students and postdoctoral researchers, although exceptions can be made for junior faculty and talented undergraduates.
Housing and Fees:
Housing will be provided in comfortable rooms on the NCBS campus. All meals will be provided during the course.
The tuition fee for the course is USD 600 for participants applying from institutions outside India and INR 10000 for participants applying from institutions within India. The tuition fee includes all course materials, boarding and lodging.
Application Procedure:
All participants are requested to apply by submitting the following material to Manoj Mathew (microscopy2012@ncbs.res.in):
1) A CV
2) A one page description of your research interest and reason for taking the course.
3) Two letters of recommendation (submitted separately by the referees) by email
The application deadline is 30th May 2012. Selected candidates will be informed by 15thJune 2012 with the tuition fee being payable upon acceptance.
Contact Information:
Manoj Mathew
NCBS - Microscopy Course
National Centre for biological Sciences
Tata Institute of Fundamental Research
GKVK, Bellary Road,
Bangalore 560 065 INDIA
Tel: +91-80-67176277
Mob: +91 9886789049

Email: microscopy2012@ncbs.res.in
Travel:
Students will be responsible for their own transport to Bangalore. Travel between the airport and NCBS will be arranged by the meeting organizers.
Support and Attendance by:
Andor, Bitplane, Carl Zeiss, Coherent, DSS Imagetech, GE Healthcare, Icon Analytical, JH BIO, Laser Science, Laser Spectra Services, Leica, Molecular Devices, Nikon, Olympus, Perkin Elmer, Photometrics, Strand Life Sciences, Scientific Volume Imaging, TILL Photonics