Archives at NCBS : Events - Paradox of the Media: Plentiful yet Unviable, Plentiful yet Unfree
Archives at the National Centre for Biological Sciences
Public Lecture Series
52nd edition
Monthly talks framed around explorations in and around archives. Discussions by artists, archivists, academics, lawyers, teachers, journalists and others.
Paradox of the Media
Plentiful yet Unviable, Plentiful yet Unfree
Sevanti Ninan
Friday, Jan 20 2023. 5:00pm.
Lecture Hall – 1 (Haapus), NCBS
You can now access the full lecture text
here
.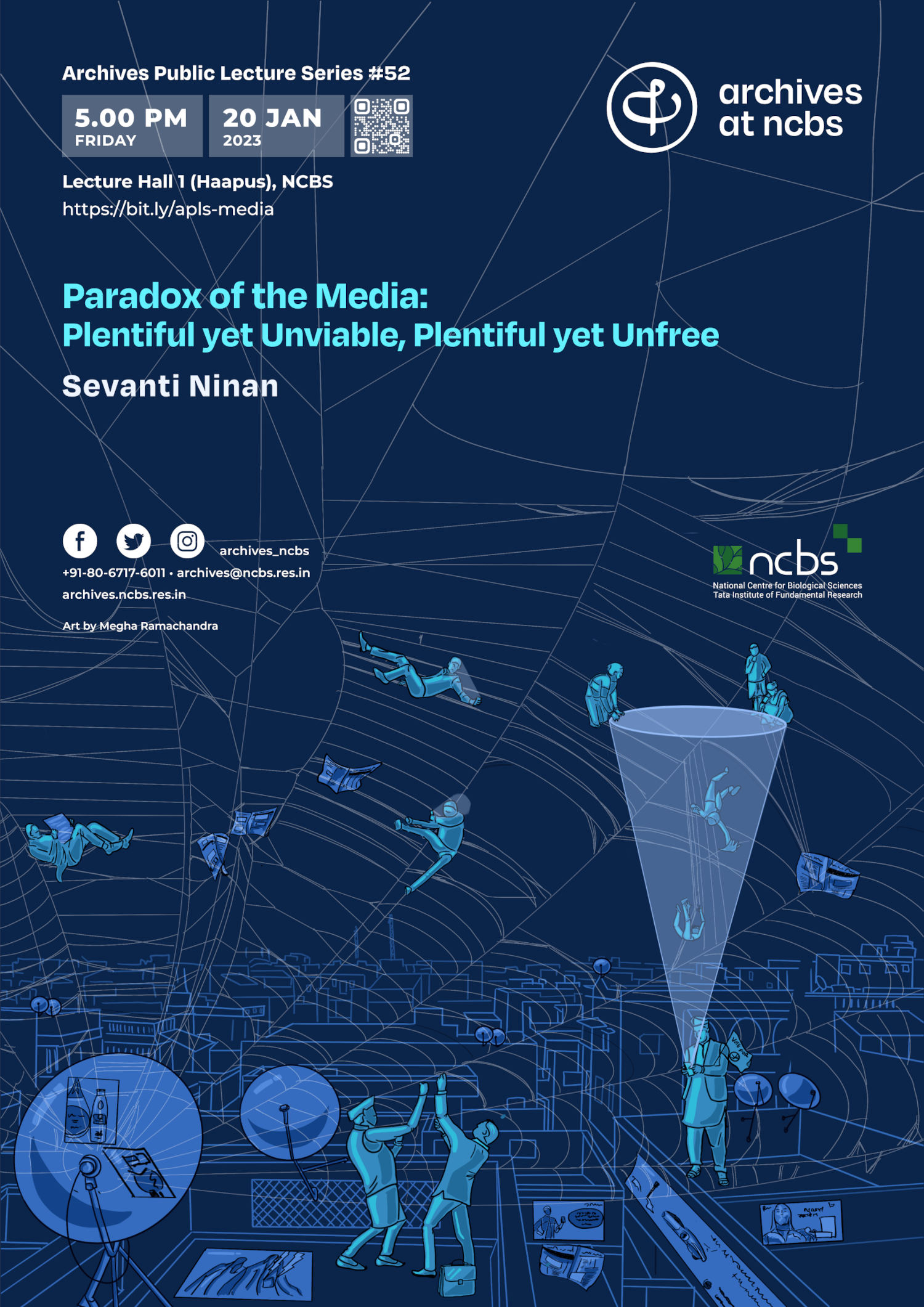 Abstract:
India currently has more privately-owned media than most countries in the world. Yet it has a crisis of both press freedom and viability. In this talk, I explore the reasons for this, tracing how and why the media industry expanded and grew in the decade of the 1990s.
In the 1990s, growth in literacy, consumerism and advertising, and the advent of satellite television, all led to an expansion of print and television riding on post-liberalisation advertising. This dependence on advertising led to subscription revenues not being developed for either print or television. Today, however, there is not enough advertising to go round in the media glut. And consumers have grown used to not paying for the media they consume.
India's press is only partly free because of the nature of media ownership. Corporate owners also own other businesses that are regulated by the government of the day. How effectively can you hold power to account when your company's owner is vulnerable to government pressure? Increased political ownership of media has eroded unbiased and independent journalism. And social media has given politicians direct access to voters. They rely less on the media as an intermediary, leading to greater intolerance of any criticism of them in the media.
This is the paradox of the media in India today: plentiful yet unviable, plentiful yet unfree.
Bio:
Sevanti Ninan has been a reporter at the Hindustan Times and The Indian Express, and a media commentator for the Indian Express, The Hindu and Mint. She now writes for Telegraph India. She was the founder-editor of The Hoot, the media watchdog platform, and later created The Hoot Archive, which is hosted at Ashoka University. She is the author of Through the Magic Window, Television and Change in India (Penguin India 1995), and Headlines from the Heartland, Reinventing the Hindi Public Sphere (SAGE India 2007). She has also edited The Hoot Reader (OUP 2013) with Subarno Chattarji.