Archives at NCBS : Events - Coming Apart: A Brief History of Dissent and Sedition | Archives Public Lecture Series
Archives at NCBS
Public Lecture Series
51st edition
Monthly talks framed around explorations in and around archives. Discussions by artists, archivists, academics, lawyers, teachers, journalists and others.
Coming Apart
A Brief History of Dissent and Sedition
Chitranshul Sinha
Friday, Dec 16 2022. 5:00pm.
Lecture Hall – 1 (Haapus), NCBS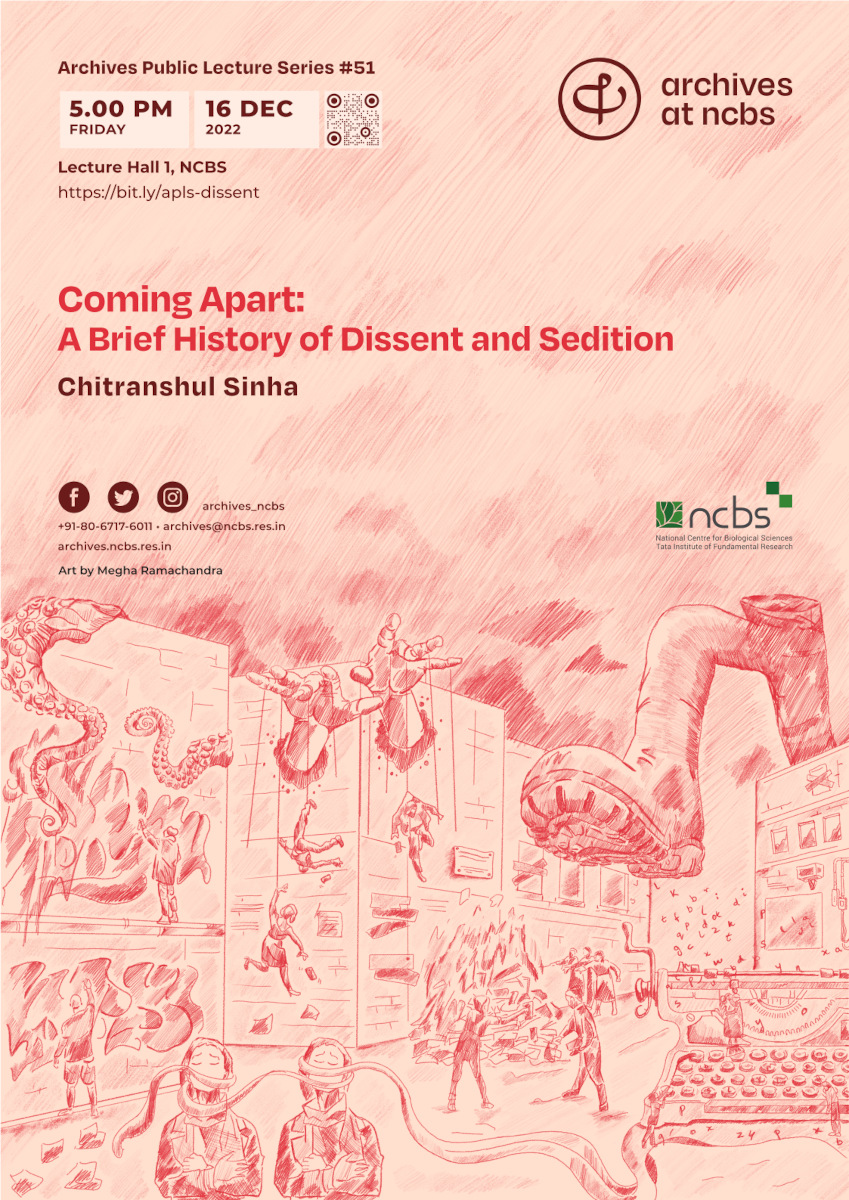 Abstract:
The Indian law of sedition has a colonial history. It started with an effort to protect the reputation of the English monarch. Over the past two decades, this law has resulted in incarceration and charging of those who have drawn cartoons against corruption, protested against bills in legislation, celebrated songs and sportspersons of another country, and those who have dissented on social media. This law has a history going back about eight centuries, and was drafted for India by people who had little context of the social situation of the sub-continent. The UK itself abolished its sedition law in 2009; its Indian counterpart is currently being reviewed by the Supreme Court of India. And at the heart of this is perhaps a question that keeps doing its rounds across history: when does dissent really become seditious in the modern state? The talk will discuss this colonial history of one of India's most controversial laws and will try to analyse if we are repeating the same mistakes today when we look at updating our penal laws.
Bio:
Chitranshul Sinha is an Advocate on Record of the Supreme Court, and a Partner in Dua Associates, Advocates and Solicitors. He is also an author – his book 'The Great Repression- the story of sedition in India' was published in 2019 by Penguin India. He is also a regular contributor to publications like the Indian Express, Times of India, The Hindu, Mirror, Mint etc. where he writes on issues related to law. Chitranshul also helped draft a writ petition challenging the constitutional validity of the sedition law before the Supreme Court of India for a sitting Member of Parliament.