Archives at NCBS : Events - Data and Democracy | Archives Public Lecture Series
Archives at the National Centre for Biological Sciences
Public Lecture Series
48th edition
Monthly talks framed around explorations in and around archives. Discussions by artists, archivists, academics, lawyers, teachers, journalists and others.
Data and Democracy
How statistics and democracy shape each other in India
Rukmini S
IN-PERSON
Friday, July 15 2022. 5:00pm.
Lecture Hall – 1 (Haapus), NCBS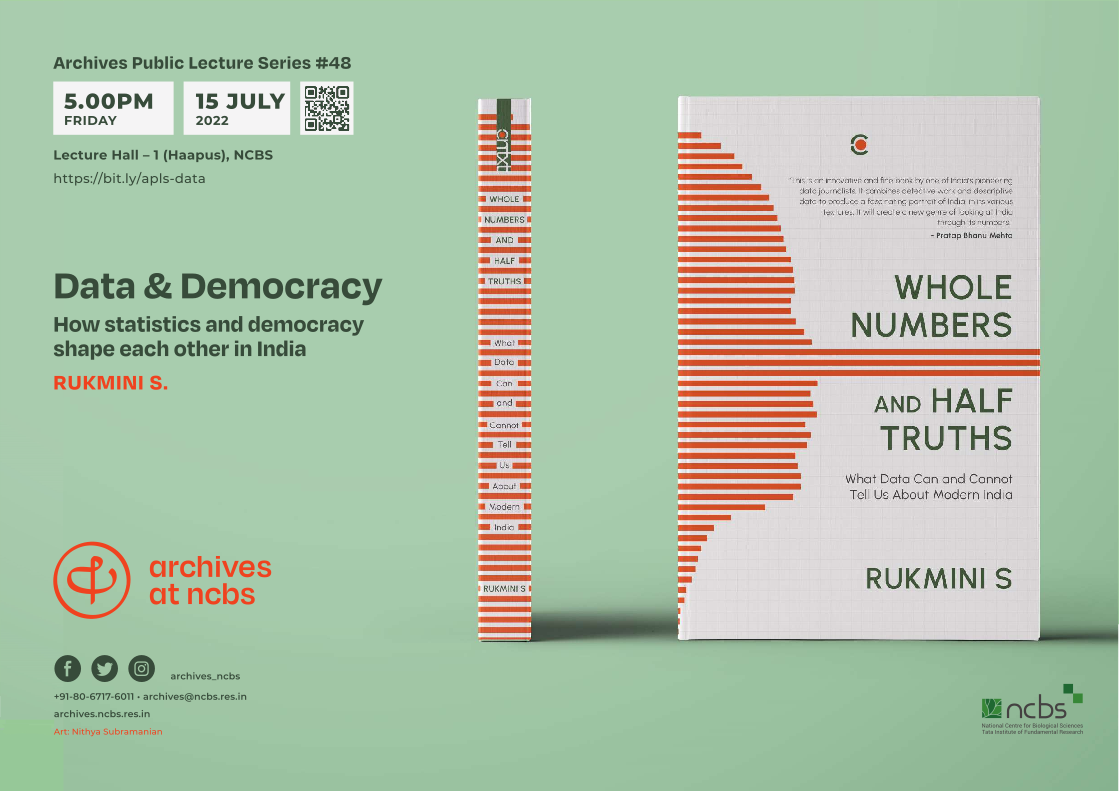 Abstract:
India's statistical architecture was a product of the post-colonial moment, and the dreams and imperatives of the founding moment were reflected in its structure. How has that compact weathered the storms of independent India's democratic churn, and does India's statistical edifice still serve India and Indians well? What will it take for data to deepen Indian democracy?
Drawing on 15 years of experience of the working of the levers of democracy, as well as a ringside view of the political economy of Indian data, independent data journalist Rukmini S reflects upon the role that data has played in our understanding of the current moment, as well as what the data misses. Rukmini's book 'Whole Numbers and Half Truths: What Data Can and Cannot Tell Us About Modern India' was published by Westland in December 2021.
Bio:
Rukmini S. is an independent data journalist based in Chennai. In 2004, she began covering Mumbai city for The Times of India. Since 2010, she has specialised in data journalism. She was the first Data Editor of an Indian newsroom, first at The Hindu and then at HuffPost India. She has also reported on the field from across the country.
She now writes for a range of publications including Mint, IndiaSpend and The Guardian. Her pandemic podcast, The Moving Curve, won an Emergent Ventures India Covid-19 Prize in 2020. She was awarded the Chameli Devi Jain Awards for an Outstanding Woman Journalist (Honourable Mention) in 2020 and a Likho Award for Excellence in Media in 2019. Born in Pune, she studied in Mumbai and London and has a Post-Graduate Diploma in Social Communications Media
and an MSc in Development Studies.