Archives at NCBS : Events - Archives Public Lecture Series: Wiping polio off spaceship earth: The hope and dream of disease eradication
Archives at the National Centre for Biological Sciences
Public Lecture Series
41st edition
Monthly talks framed around explorations in and around archives. Discussions by artists, archivists, academics, lawyers, teachers, journalists and others.
Wiping polio off spaceship earth: The hope and dream of disease eradication
Thomas Abraham
Friday, Sep 17 2021. 4:00pm.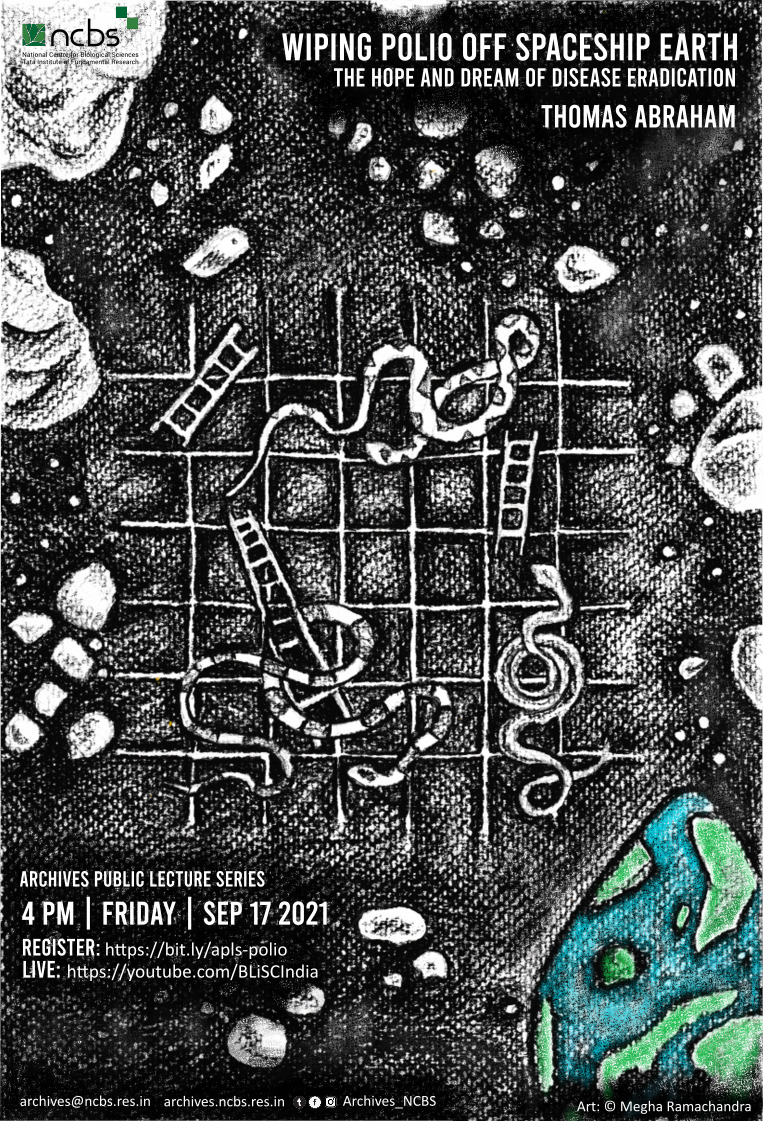 Abstract:
In May 1988, the then Director General of the World Health Organization, Halfdan Mahler, issued a stirring challenge to the countries of the world: "What about having the guts to eradicate poliomyelitis from spaceship earth by the year 2000?" Ministers of Health from the WHO's member states agreed to take up the challenge, and the global polio eradication initiative was launched. The original target date for eradication has been overshot by more than two decades, and the poliovirus still exists on spaceship earth. Over the last century, similarly ambitious and expensive disease eradication plans against a range of diseases including malaria, yellow fever and smallpox. Of these, only smallpox succeeded. What is the allure of disease eradication, what does it involve, and why does it so rarely succeed? Does disease eradication as a concept have any relevance in contemporary times? These are some of the questions this talk will address.
Bio:
Thomas Abraham
is the author or
Polio: The Odyssey of Eradication (2018)
, which was longlisted for the Wellcome Book Prize 2019, and
Twenty First Century Plague: The Story of SARS (2004)
. He is adjunct associate professor at the
University of Hong Kong
. His research work focuses on risk communication during infectious disease epidemics, the role of the media in communicating risk and infectious diseases, and global health security. He has been a consultant for the World Health Organization and other international organisations on risk communication. Prior to joining the University of Hong Kong, Thomas Abraham worked for 25 years as a journalist. He is a former Editor and Deputy Editor of the South China Morning Post in Hong Kong. He also spent 13 years as a foreign correspondent based in Sri Lanka, the United Nations Office in Geneva, and London for The Hindu.