Archives at NCBS : Events - Archives Public Lecture Series: The extent of virtue: Impossible Idealism, Drastic Choices, and the Urge to Help
Archives at the National Centre for Biological Sciences
Public Lecture Series
38th edition
Monthly talks framed around explorations in and around archives. Discussions by artists, archivists, academics, lawyers, teachers, journalists and others.
The extent of virtue: Impossible Idealism, Drastic Choices, and the Urge to Help
Larissa MacFarquhar
in conversation with Samanth Subramanian
Thursday, Jun 17 2021. 6:30pm.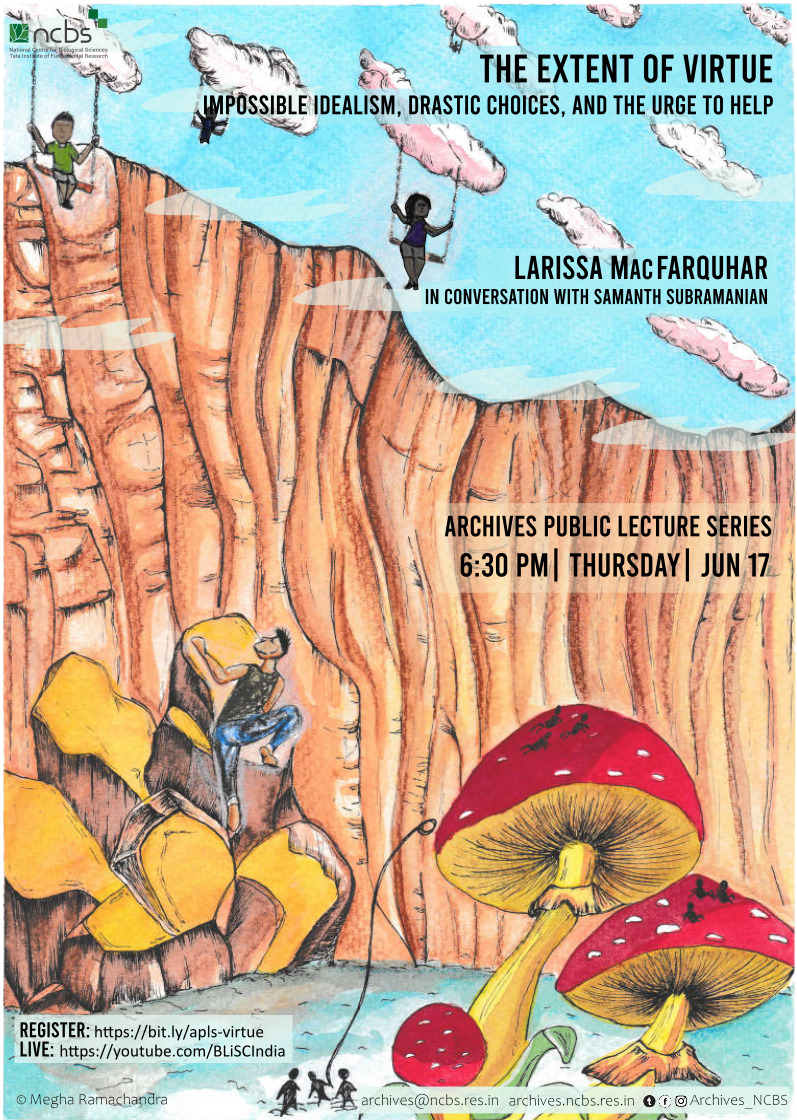 Abstract:
What does it mean to devote yourself wholly to helping others?
In her work, Larissa MacFarquhar seeks out people living lives of extreme ethical commitment and tells their deeply intimate stories; their stubborn integrity and their compromises; their bravery and their recklessness; their joys and defeats and wrenching dilemmas.
A couple adopts two children in distress, then four, then ten, then twenty. An activist lets go off of everything he possesses, all for a cause. A woman believes that if she spends money on herself, rather than donating it to buy life-saving medicine, she's responsible for the deaths that result. She lives on a fraction of her income, but wonders: when is compromise self-indulgence and when is it essential?
In her talk, which draws from her book,
Strangers Drowning
, she will touch upon what drives some people to live lives of extraordinary moral commitment. What are the joys, the difficulties, and the complications of such a life? And why do the rest of us not give more than we do? It's not just selfishness: deep cultural forces push people away from altruism. Her work challenges us to think about what we value most, and why.
MacFarquhar draws on history, literature, philosophy and social science to ground these deeply reported stories around lives of extreme virtue. Through its sympathetic and beautifully vivid storytelling, her work confronts us with fundamental questions about what it means to be human.
Note: Much of this abstract is excerpted from the book jacket of Strangers Drowning.
Bio:
Larissa MacFarquhar has been a staff writer at The New Yorker since 1998. Her Profile subjects have included John Ashbery, Barack Obama, Noam Chomsky, Hilary Mantel, Derek Parfit, David Chang, and Aaron Swartz, among many others. She is the author of "Strangers Drowning: Grappling with Impossible Idealism, Drastic Choices, and the Overpowering Urge to Help" (Penguin Press, 2015). Before joining the magazine, she was a senior editor at Lingua Franca and an advisory editor at The Paris Review, and wrote for Artforum, The Nation, The New Republic, the Times Book Review, Slate, and other publications. She has received two Front Page Awards from the Newswomen's Club of New York, and her writing has appeared in The Best American Political Writing (2007 and 2009) and The Best American Food Writing (2008). Previously, she was a senior editor at Lingua Franca and an advisory editor at The Paris Review.
Samanth Subramanian is a writer and journalist based in Cambridge, England. His narrative journalism has appeared in the New Yorker, the New York Times Magazine, the Guardian, WIRED, and Harper's, among other publications. His first book, "Following Fish: Travels Around the Indian Coast," won the Shakti Bhatt First Book Prize in 2010 and was shortlisted for the Andre Simon Award in 2013. His second book, "This Divided Island: Stories from the Sri Lankan War," won the 2015 Crossword Prize for Non Fiction and was shortlisted for the Samuel Johnson Non Fiction Prize and the Royal Society of Literature's Ondaatje Prize the same year. His latest book is a biography of JBS Haldane.