Archives at NCBS : Events - Archives Public Lecture Series: This thing called the Internet: Infrastructure, governance and rights
Archives at the National Centre for Biological Sciences
Public Lecture Series
34th edition
Monthly talks framed around explorations in and around archives. Discussions by artists, archivists, academics, lawyers, teachers, journalists and others.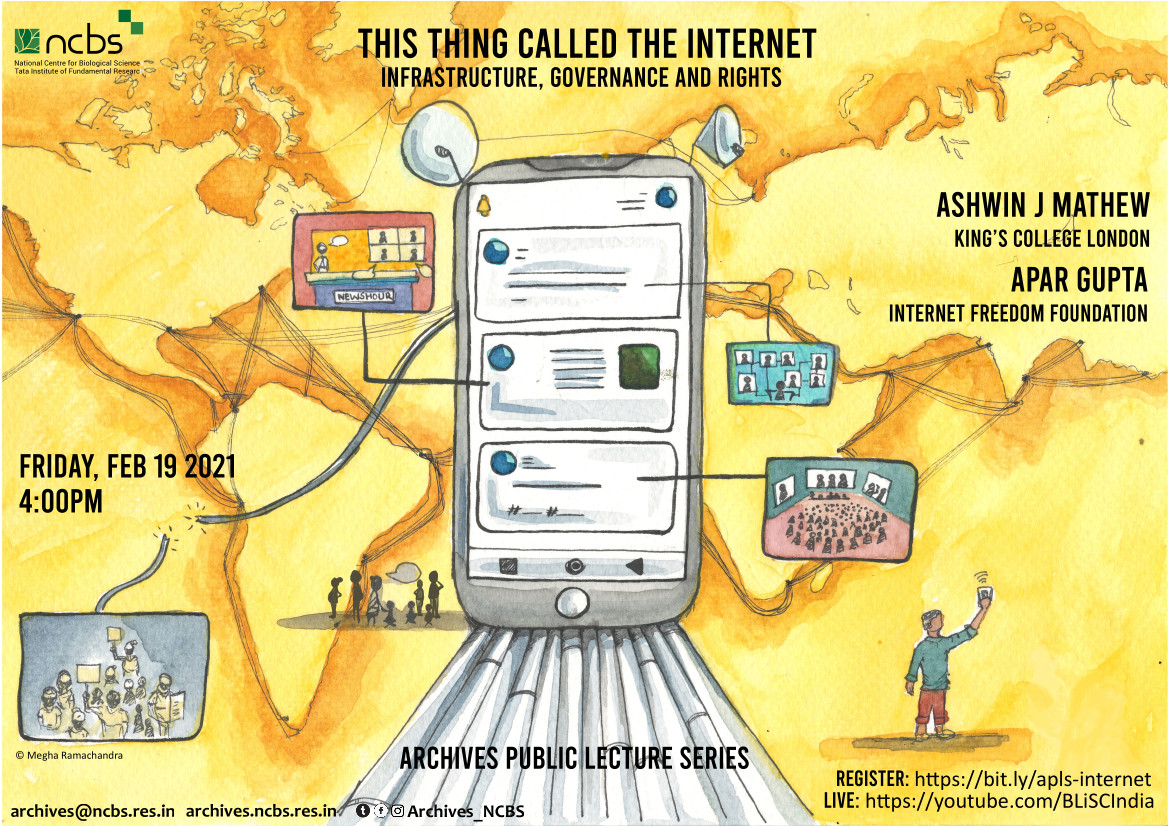 This thing called the Internet: Infrastructure, governance and rights
Ashwin J Mathew, King's College London
Apar Gupta, Internet Freedom Foundation
Friday, Feb 19 2021. 4:00pm.
Abstract:
For as long as the Internet has been around for public use, there has been an unmet desire for equitable access. And throughout this time, there has been little talk in India about the infrastructure that makes this interconnected network, this Internet. This is the world of servers, switching and cable networks, transmission towers, protocols, regulatory authorities, and service providers. It is the world behind every WhatsApp forward, online classroom, remote conference, multi-player online game, and Internet shutdown.
This is a discussion on the history, politics and legal handshakes of the backbone of the Internet – its wiring, so to speak – and on how much we might take it for granted without fully understanding its regulation and access. This reliance on – and fragility of – this thing called the Internet have both come to the fore in the age of the 21st century pandemic.
Ashwin Mathew will discuss the social, institutional, and technological points of control in global Internet infrastructure, and how these are articulated in the Indian context. Apar Gupta will talk about contemporary governance and disputes that have led to the control and regulation of the Internet in India.
Bio:
Dr. Ashwin Mathew is an ethnographer of Internet infrastructure, and Lecturer in Global Digital Cultures in the Department of Digital Humanities at King's College London. In his research, he studies the technologies and technical communities involved in the operation of the global Internet. He is interested in how the Internet is built and maintained in everyday practice; and how the cultures of the Internet's technical communities circulate and are re-articulated across Global South and Global North in the process of operating the Internet. He holds a Ph.D. in Information Management and Systems from the UC Berkeley School of Information. Prior to his doctoral work, he spent a decade as a programmer and technical architect in companies such as Adobe Systems and Sun Microsystems. (
https://www.kcl.ac.uk/people/ashwin-mathew
)
Apar Gupta is a lawyer and the Executive Director of the Internet Freedom Foundation (
https://internetfreedom.in/
), which works on a range of issues including net neutrality, free expression, privacy and innovation. Prior to this, Apar practised law for more than a decade, working as a commercial litigator in law firms His work included key digital rights cases on privacy and censorship. In 2015, he along with others launched SaveTheInternet.in, a public driven campaign on issues related to net neutrality. He was elected to the Ashoka Fellowship in 2019 (
https://www.ashoka.org/en-in/fellow/apar-gupta
).