Director's Message (2013-2014)
Just as we were coming to terms with Obaid's passing away last year, with Prof. KS Krishnan's sudden passing (d. 24 May 2014) we have lost another one of our unusual biologists. Krishnan was unusual in the way he repeatedly linked his scientific questions with innovative solutions that were rooted locally. In his science, Krishnan linked the dance of molecules in the nerve cell to the behaviour of the animal in an interactive world. Cutting seamlessly across scale is the quintessence of biology, and Krishnan did this effortlessly. We will long cherish his huge enthusiasm for science, his generosity and his inimitable style: he would do what he loved, inventing devices and looking at molecules or animals in many ways and he could always inspire others to get the very important details done.Inspired by Krishnan and his explorations (along with Mani Ramaswami and P. Balaram) into the biological wonderland (venoms) of native cone snails species, we have embarked on a new programme in Chemical Ecology.
This aims to connect the scales of biology, represented on our campus from the single molecule to ecosystems. With an expanding array of field stations accessible to our researchers and the natural biodiversity that these field stations offer, our programme offers a veritable cornucopia of possibilities for original research that is locally rooted. To add to the excitement this new avenue offers we welcome our newest recruit, Shannon Olsson (Chemical Ecologist) to our campus. We also welcome P. Shivaprasad (our first card-carrying plant biologist), Ranabir Das (NMR spectroscopist), Varadha Sundarmurthy (infectious disease biologist) who have all recently joined us and will surely engage with the avenues that field biology opens up. And as a sign of coming of age (NCBS just turned 21 last year) some of our colleagues who have been nurtured here, are testing new pastures.
We bid farewell to Deepak Nair, Madhusudhan Venkadesan, and Yamuna Krishnan. Deepak moves to the Regional Centre for Biotechnology in New Delhi to head up a structural biology unit there. Madhu moves to Yale University to build up on research that started here on biomechanics and control theory, and Yamuna to the University of Chicago to expand the scope of her interactions in her domain of DNA-based sensors. Apurva Sarin also moves away from NCBS, but fortunately not too far; she takes on a big challenge as the new Dean at inStem. We wish all of them only the very best.With our theorists colleagues now housed in their chalk-board filled digs at the Simons@NCBS complex and embarking on new journeys, and our new laboratory complex with its open plan architecture beginning to grow on its occupants, as well as a brand new housing complex completed, we must commend our projects and the technical services teams for making sure of the architecture and quality necessary for our research. As we rapidly fill our new building and renew our old building with new and exciting science (as you will no doubt read in this report), we also realize that we will soon have a new research block in our neighbourhood, this time built for the Institute for Stem Cell and Regenerative Medicine (inStem).
This brings up the question of our 'neighbourhood'. It is here that I believe we are forming a new ecosystem for biological research. This spans scale [from single molecules to ecosystems (a NCBS)], thematics [from basic mechanisms underlying how cells chose their fate by a complex interplay of nature and nurture to the use of stem cells in translational research (at inStem)], with the technological capabilities necessary [development of core facilities and new technology necessary for Biology and innovation (at CCAMP)]. I see huge potential of combining different modes of research, in which individual laboratory based (NCBS) and theme driven approaches (inStem) could create a heady mixture for truly exciting science.If this potential is to be realized, we will need an enlightened mechanism to govern the interactions of this cluster of institutions, without compromising individual institutional identities, autonomies and directions. inSTEM and CCAMP were established with the explicit involvement of both NCBS's administration and scientists, to help amplify research potential on our campus. The presence of these institutions enriches our scientific environment, and opens avenues for PIs to initiate projects that transcend limitations imposed by the scale of work possible in an individual's laboratory.Some fruits of such collaborative and theme based research are beginning to be realized, in the launching of a number of multi-institute programmes (such as Centre for Brain Development and Repair - CBDR, National Mouse Resource - NaMoR, Discovery Biology of Neuropsychiatric Syndromes - DBNS, NCBS-Max Planck Lipid Center. I believe that this ecosystem will provide us the necessary bandwidth to engage with the huge potential for human and other organismal biology that our new clinical engagements and field research offers, filling our laboratories with questions that emanate from our own local environments. We need a multi-disciplinary research environment that can support many modes of research, and this is what we must nurture our campus.
Director,NCBS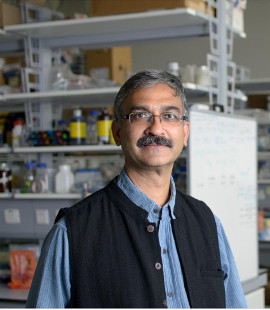 Prof. Satyajit Mayor