Archives at NCBS : Events - Forty Years an Archive Rat in Five Continents | Archives Public Lecture Series
Archives at the National Centre for Biological Sciences
Public Lecture Series
50th edition
Monthly talks framed around explorations in and around archives. Discussions by artists, archivists, academics, lawyers, teachers, journalists and others.
Forty Years an Archive Rat in Five Continents
Ramachandra Guha
Friday, September 23 2022. 5:00pm.
Dasheri Auditorium, NCBS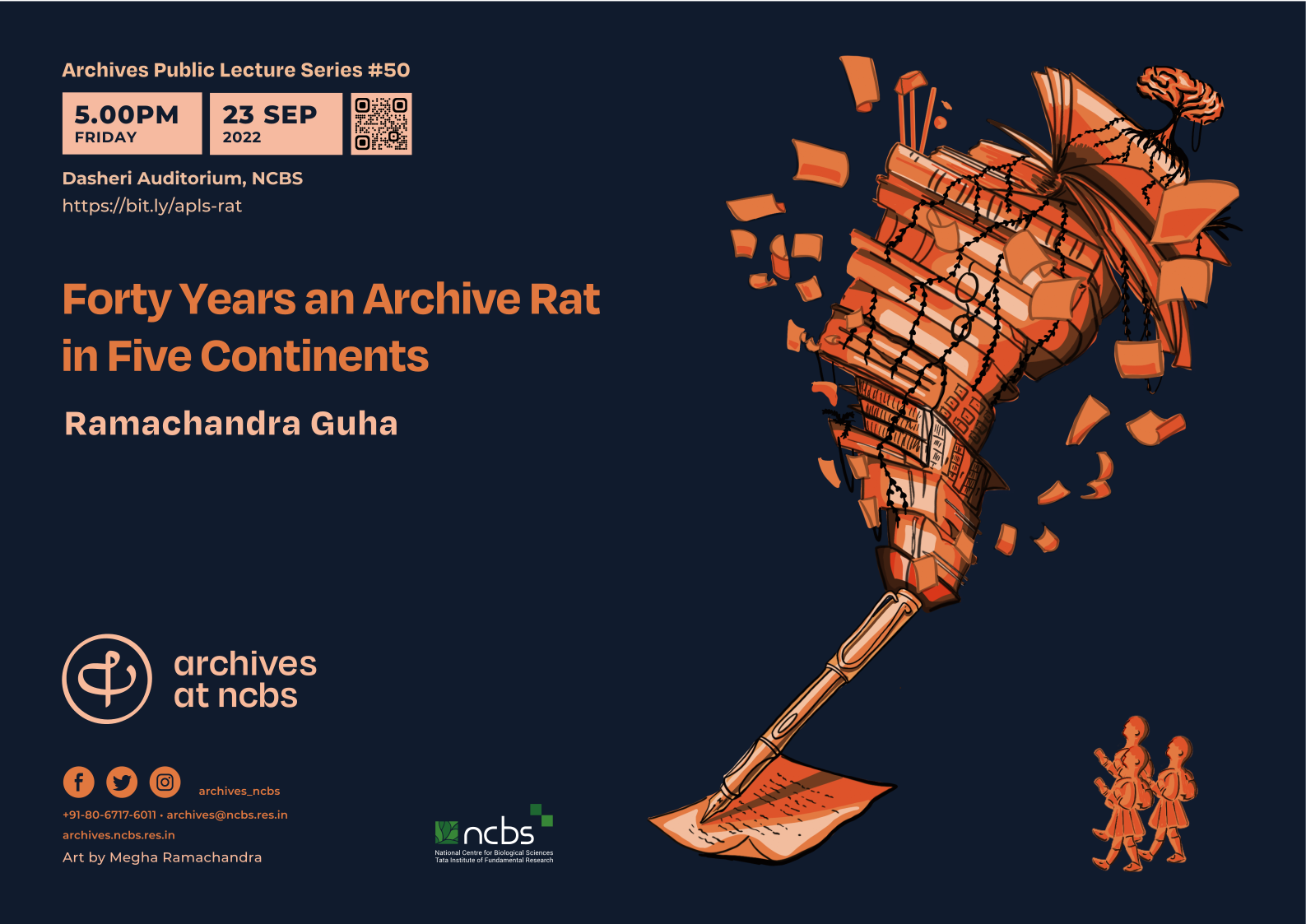 Abstract:
Trained in economics and sociology, Ramachandra Guha became a historian by chance, after a village elder in Uttarakhand told him an unlikely tale of peasant protest that he found confirmation of in the archives. This was in 1982. For the next four decades, Guha has scoured archives around the world, in search of materials for his books and essays. He has done research in archival repositories in different parts of India, the UK, and the USA, and in Israel, South Africa, and Australia. He has worked in government archives, university manuscript collections, company record rooms, and newspaper offices, and consulted personal collections held in private hands.
This talk will recall some professional and personal highlights from those journeys. Guha will speak of different kinds of primary sources; government documents, personal letters, diaries, court records, fugitive newspaper reports, etc, providing illustrations of the insights each can provide into our past. Much of this work was done before the invention of the World Wide Web, when one had to go physically to an archive to know what it contained, and when one had to take notes by hand. He will end his talk with reflections on how the digital age simultaneously makes the historian's job easier as well as less enjoyable.
Bio:
Ramachandra Guha is a historian and biographer based in Bengaluru. His books include a pioneering environmental history, The Unquiet Woods (University of California Press, 1989), and an award-winning social history of cricket, A Corner of a Foreign Field (Picador, 2002), which was chosen by The Guardian as one of the ten best books on cricket ever written. His book, India after Gandhi, was chosen as a book of the year by the Economist, the Washington Post, and the Wall Street Journal, and as a book of the decade in the Times of London and The Hindu. These were followed by Gandhi Before India (Knopf, 2014), and Gandhi: The Years That Changed the World (Knopf, 2018). More recently, this year, he published Rebels Against the Raj: Western Fighters for India's Freedom.
His awards include the Leopold-Hidy Prize of the American Society of Environmental History, the Daily Telegraph/Cricket Society prize, the Malcolm Adideshiah Award for excellence in social science research, the Ramnath Goenka Prize for excellence in journalism, the Sahitya Akademi Award, and the Fukuoka Prize for contributions to Asian studies.