Archives at NCBS : Events - Contested Terrain: Lawyering for Forest Rights
Archives at NCBS | Public Lecture Series
58th edition
Monthly talks framed around explorations in and around archives. Discussions by artists, archivists, academics, lawyers, teachers, journalists and others.
in collaboration with Alternative Law Forum and QAMRA Archival Project at NLSIU
Contested Terrain
Lawyering for Forest Rights
Shomona Khanna
in conversation with Radhika Chitkara
Friday, Sep 15 2023. 6:00pm.
Alternative Law Forum, Shivaji Nagar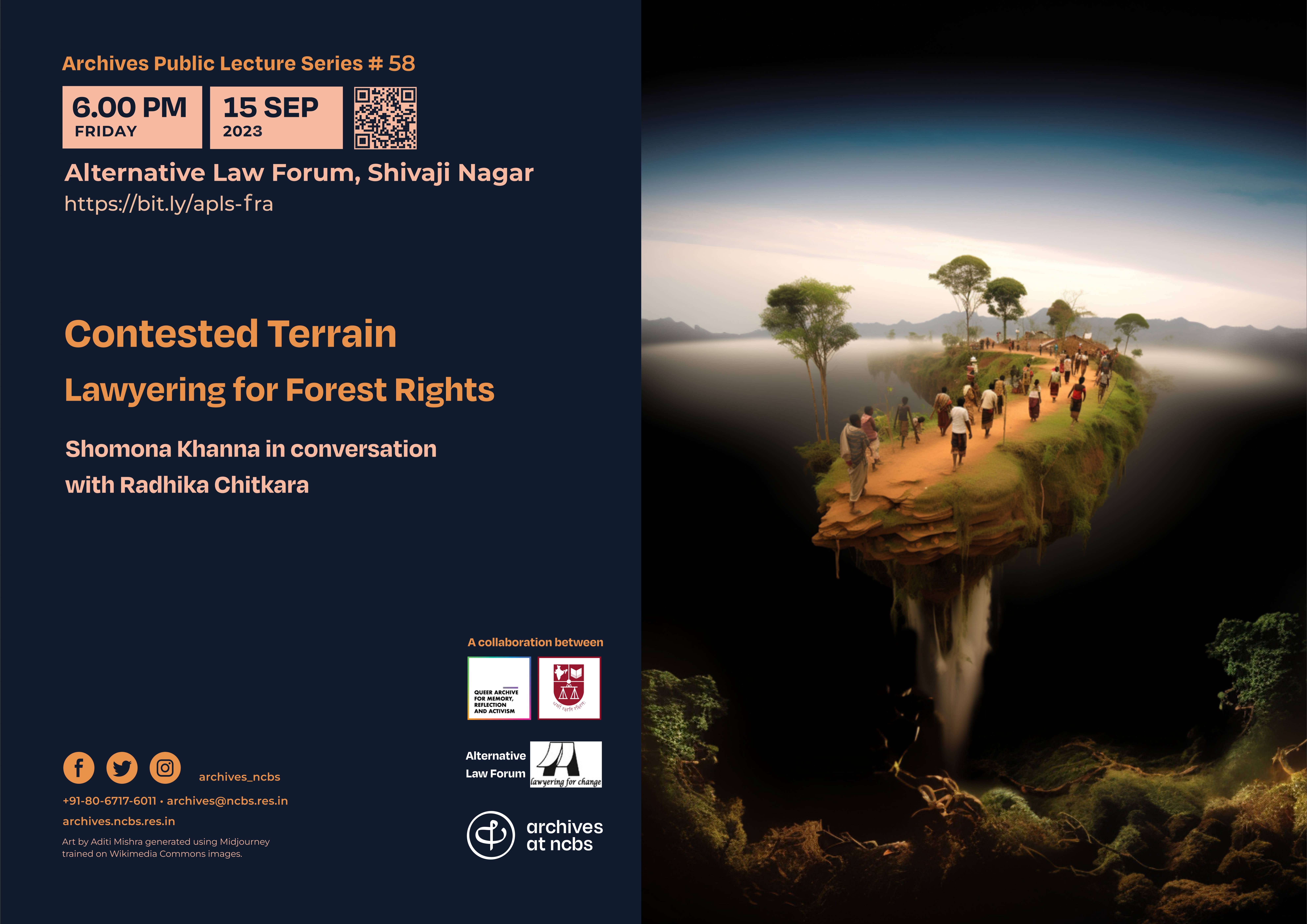 Abstract:
In the context of ongoing legislative upheavals relating to forest conservation and environmental protection, this talk brings attention to struggles for recognition of forest rights and for democratic forest governance in India. Told from the perspective of a lawyer, the talk narrates the many ways in which social movements have laid claim to the Law, both as a shield against evictions from traditional homelands as well as a sword to advance customary rights. Through key moments from popular mobilizations surrounding the Forest Rights Act (FRA) over the past two decades, with audio-video clips, reports, gram sabha resolutions, pamphlets etc., the conversation will attempt to historicize the present moment of rollback of rights, and to interrogate methods of human rights lawyering that can enable us to hold our ground.
Bio:
Shomona Khanna is an Advocate practicing in the Supreme Court of India and Delhi High Court, and has been associated with numerous civil and democratic rights issues since 1991, both as a lawyer and as a writer. Between 2011 and 2017 she was Legal Advisor to the Ministry of Tribal Affairs, Government of India. She handles several human rights cases in the courts, including the abolition of manual scavenging, protection of women from sexual harassment at the workplace, and indigenous peoples' rights. She has also written several books and book chapters on these issues. In 2017, she initiated the Legal Resource Centre, a collective of lawyers and legal professionals engaged in demystification of the law for indigenous and Adivasi communities, through legal workshops, training materials, academic and action research. Her most recent publication, which she co-authored with three other lawyers, is 'Criminalisation of Adivasis and the Indian Legal System'. As part of her endeavours to de-mystify the law for indigenous and forest dwelling peoples, she has spearheaded the development of a 17-part audio-visual course entitled 'Critical Learnings on Forest and Adivasi Rights' which is available under creative commons licence at
https://nagriklearning.com/enrol/index.php?id=6
and
https://vasundharaodisha.org/User/tutorial/
Radhika Chitkara is presently Assistant Professor (Law) at National Law School, Bangalore, where she teaches criminal law. She is also the Dr. NR Madhav Menon Doctoral Scholar at NLS since 2021. She is a researcher, clinical practitioner and activist in the field of human rights, civil liberties and land rights. She has previously taught constitutional law, feminist legal theories and human rights lawyering at the Jindal Global Law School and National Law University, Delhi. Prior to that, Radhika was associated with the Legal Resource Centre, Delhi, undertaking legal aid, litigation support, research and advocacy on concerns of forest rights and the V Schedule to the Constitution, focusing on the intersections between self-determination, environment and conflict. She obtained her LL.M. with a Concentration in International Human Rights at the Harvard Law School in 2017, and completed her B.A., LL.B.(Hons.) from the National Law School of India University, Bangalore in 2013.