Archives at NCBS : Events - Archives Public Lecture Series: Archiving Grief
Archives at the National Centre for Biological Sciences
Public Lecture Series
36th edition
Monthly talks framed around explorations in and around archives. Discussions by artists, archivists, academics, lawyers, teachers, journalists and others.
Archiving Grief
John Mathew, Krea University
Friday, Apr 16 2021. 4:00pm.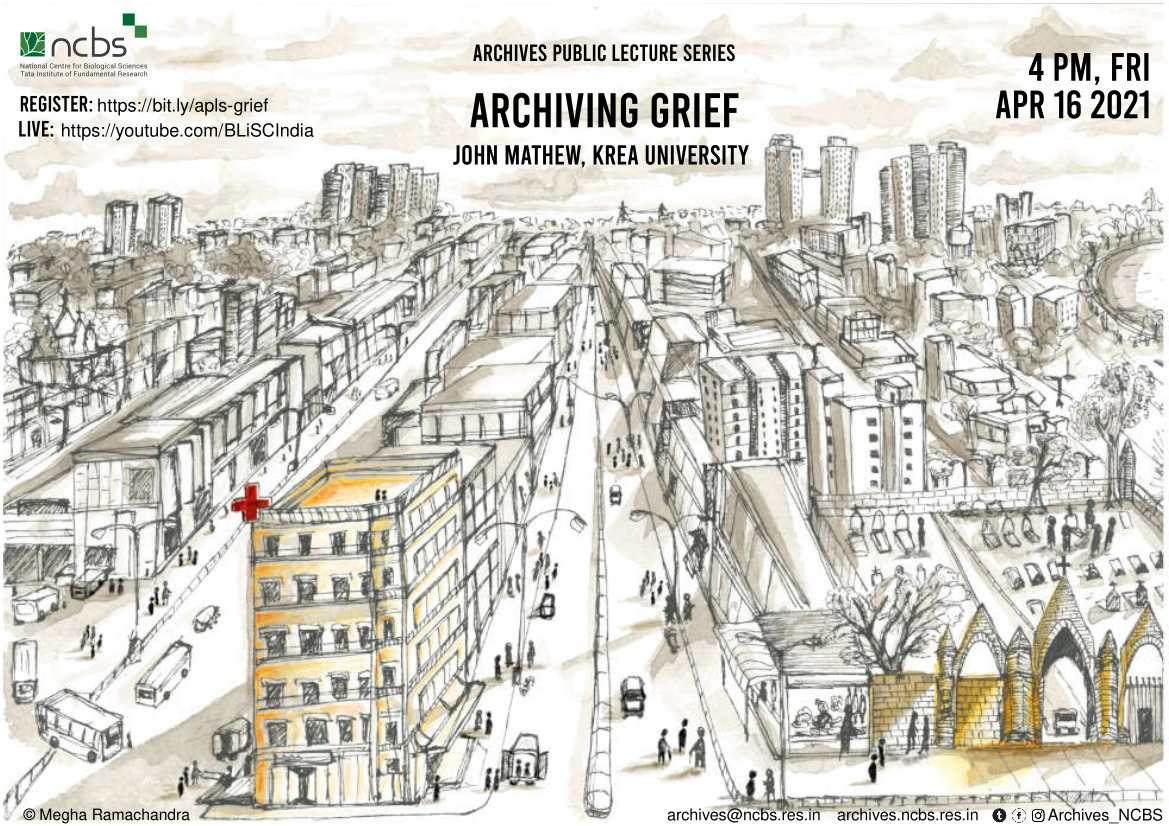 Abstract:
In this personal reflection, occasioned by a recent and life-inflecting bereavement, John Mathew dwells upon the encountering of loss through death from three angles – the cell, the chorus, and the cemetery.
In every one of these, the role of memory is explored from the perspective of perception – the proverbial fall of the tree in the forest in relation to the cell, except that others, in a metaphorical sense, are watching and remembering; the chorus making manifest the power of the collective in the stories of the ages, including those that have attained to them; and the cemetery marking through its monuments and epitaphs, the need for the living to commemorate. Each perspective is its own archive, replete with deposited memories, where grief is enshrined in the telling, even as the perspectives themselves blend through the narrative offered here.
The cell is treated in its biological sense with particular attention paid to programmed metabolic destruction. The chorus is viewed from the vantage point of the community, highlighted through the performing arts, ranging from requiems to operas and musicals. And the cemetery continues from the chorus, where the cities of the living move inexorably to those of the dead. This was and remains a fact brought home repeatedly to the speaker through the several tours that he guided at Highgate in London, UK, and Mount Auburn in Cambridge/Watertown, Massachusetts, USA. Through these multiple lenses, Mathew hopes to draw upon his own experiences, as an interdisciplinary academic and through insights from those that have walked excruciating paths of their own.
Bio:
John Mathew is an Associate Professor at Krea University, Sri City, Andhra Pradesh, where he leads classes in the Biological Sciences, Environmental Studies, and History. He trained in Zoology as an undergraduate and post-graduate, and has received doctorates both in the Ecological Sciences and the History of Science, as well as a Master's in Medical Anthropology. Prior to his current sinecure, he has taught at Harvard University, the University of Massachusetts, Boston, Duke University and the Indian Institute of Science Education and Research (IISER). His work focuses on the making of zoology in Eurocolonial India, and, more recently, the history of the Great Influenza (Spanish Flu) in the South Asian subcontinent.