Archives at NCBS : Events - Agyeya and the Archives: Humanising a writer, translator, and revolutionary
Archives at the National Centre for Biological Sciences
Public Lecture Series
55th edition
Monthly talks framed around explorations in and around archives. Discussions by artists, archivists, academics, lawyers, teachers, journalists and others.
Agyeya and the Archives: Humanising a writer, translator, and revolutionary
Akshaya Mukul
Friday, May 19 2023. 7:00pm.
Champaca Bookstore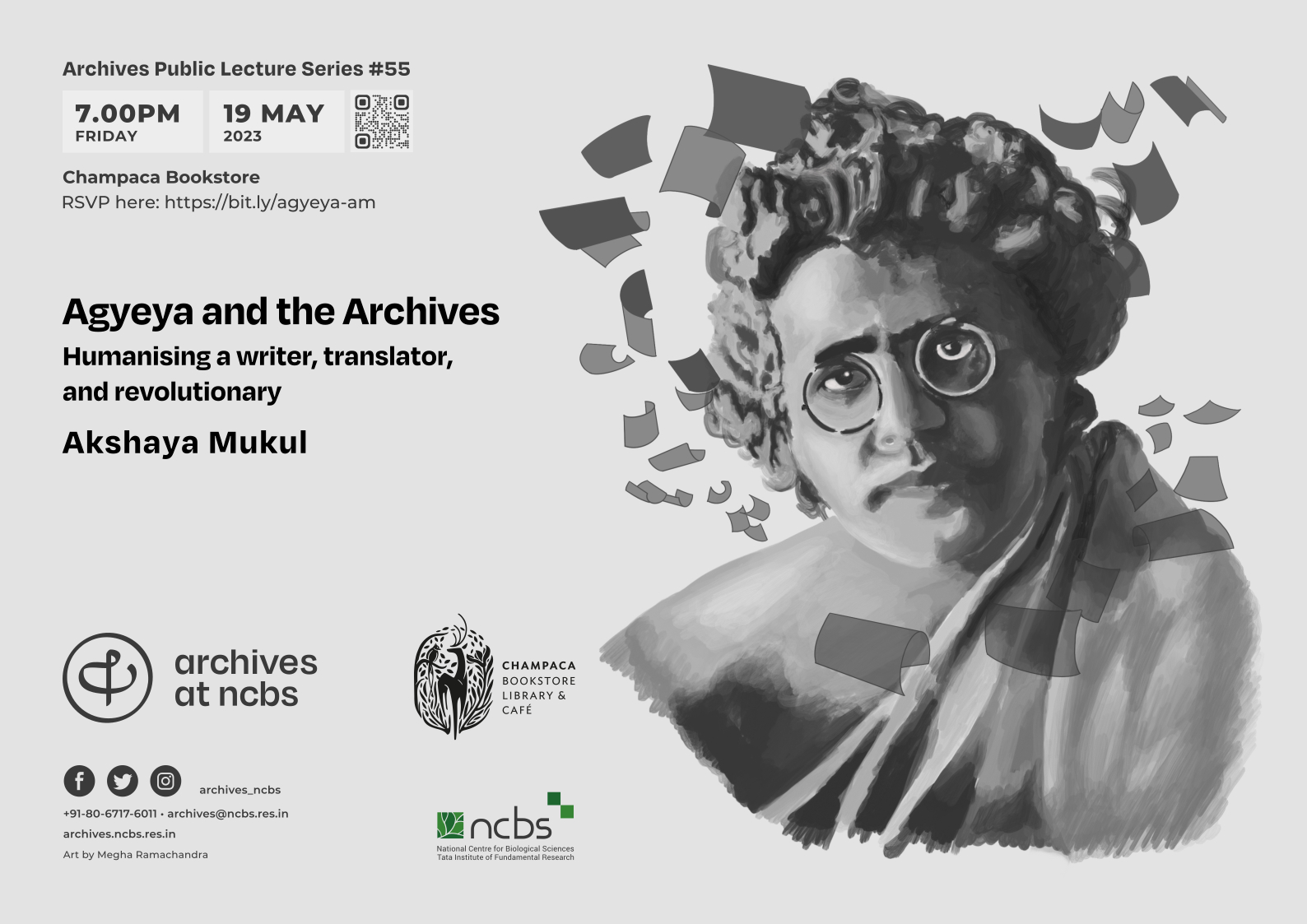 Abstract:
Agyeya is one of the most remarkable figures of Hindi literature and also the most controversial. There is nothing about him that does not have many versions. So much was written on him and yet so little is known about the writer, translator and revolutionary born in 1911 as Sachchidanand Hirannanda Vatsyayan. Ironically, a treasure trove of his papers existed in India and abroad that gives a unique peek into his public, private and secret lives. His life is also the story of Hindi literature, its pettiness, factionalism and grand debates. The lecture will delve into my quest to humanise Agyeya and examine his civilisational enterprise entirely through various archives, his struggles as a writer, his grand success and failures, stories behind his iconic novels, poetry and translation.
Bio:
Akshaya Mukul was a journalist for over 23 years and worked in The Times of India, Hindustan Times, Pioneer and Asian Age. He has covered politics, education and culture. He is the author of Gita Press and the Making of Hindu India (HarperCollins) and Writer, Rebel, Soldier, Lover: The Many Lives of Agyeya (Penguin Random House). He has contributed to A Historical Companion to Postcolonial Literatures in English (2005) edited by Prem Poddar and David Johnson, Edinburgh University Press, Keywords for India: A Conceptual Lexicon for the 21st Century edited by Rukmini Bhaya Nair and Peter Roland deSouza (Bloomsbury) and A Functioning Anarchy?: Essays for Ramachandra Guha, edited by Srinath Raghvan and Nandini Sundar (Penguin Random House).
The book on Gita Press. won Ramnath Goenka Award, Atta Galatta Prize, Shakti Bhatt Prize, Tata Lit Live Prize and Crossword Prize. He is also a recipient of New India Foundation, Homi Bhabha and Jawaharlal Nehru Memorial Fund fellowships.